The Benefits of Getting Embedded Power BI with Vena Solutions
Back in November 2022, Vena Solutions announced the integration of Microsoft Power BI as an embedded component of their Vena Complete Planning platform.
This powerful new capability enables all users to transform and maximise their Vena Solutions' data for BI purposes. It is designed to help companies unlock their potential with powerful analytics, reports, and visualisations based on Vena's already impressive planning, budgeting, and forecasting capabilities, which take data directly from existing Excel grids as well as a multitude of other databases and applications.

Whether you're a beginner or a data expert, this advanced tool now makes it easy for anyone to start leveraging the insights gained from their data and drive meaningful results. Having now had the opportunity to review this capability a little closer, this article looks at just what is possible and how you might want to use it for greater business performance analysis. In this article we'll look at:
Easy Data Visualisation
Vena's approach has always been to promote the message that 'you don't need to abandon Excel to scale your business'.
With embedded Power BI from Vena Solutions, that same approach is maintained so that you can quickly and easily take control of your data and gain an in-depth understanding of its meaning. Vena's state-of-the-art platform makes it easy to visually explore data with intuitive dashboards and reports – allowing you to identify correlations and uncover the stories behind your numbers.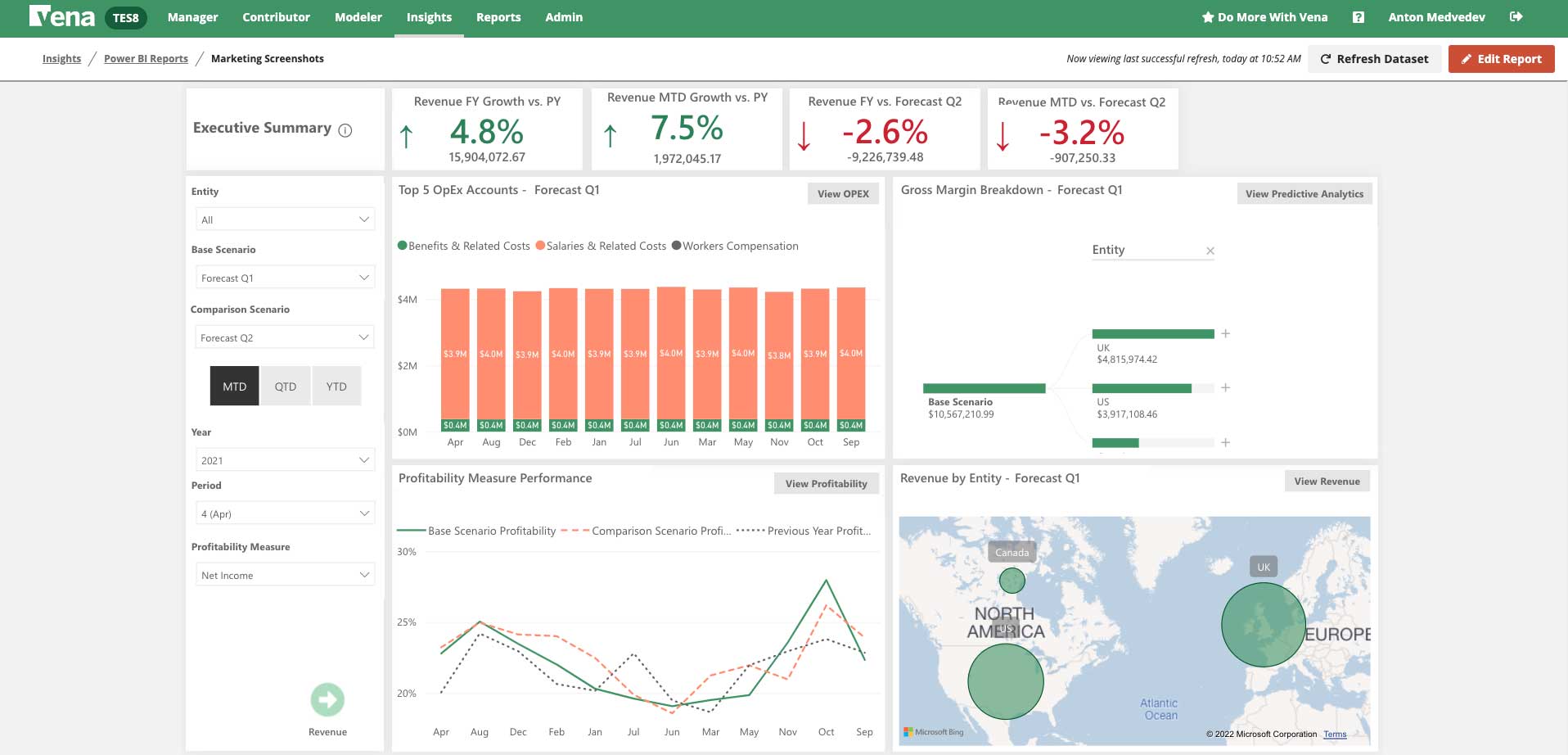 Now, users can quickly produce powerful data visualisations to share across their businesses with the same intuitive, guided capabilities that they are already used to using, without going through painful and time-consuming data extraction, formatting, and loading routines to produce a meaningful visualisation, presentation or reporting pack for example.
Seamless Integration with Existing Applications and Services
Embedded Power BI from Vena Solutions is designed to work with your existing applications and services, giving you an effortless unified user experience across all of your digital assets.
Prior to this new integration, Vena already enabled users to easily connect multiple data sources and this powerful feature now also extends that capability further to enable users to quickly launch interactive reports or dashboards – no coding required!
This capability means that Vena users are able to automatically maintain up-to-date data synchronisation between apps and ensure that stakeholders are always on the same page.
Access to Enterprise-Level Security and Scalability
Another key component of the original Vena planning platform is enterprise-level security and scalability, which always provided a huge benefit over issues surrounding this for companies using just a spreadsheet-based system alone. This capability is of course now extended to Power BI.
It's worth repeating that when you use Vena Solutions, you get enterprise-level security and scalability for your embedded Power BI, providing you with the tools to keep data secure and meet stringent industry compliance standards, while also ensuring that your solution can expand to meet your growing business needs. This in turn means that your deployment will be quick, efficient, and easy to manage over time with Vena's user-friendly interface.
Automated Report Generation for a Variety of Departments in Your Company
With embedded Power BI from Vena Solutions, you can quickly and easily generate automated reports for a variety of departments in your company. Whether you're dealing with financial, sales, marketing, or IT data sets.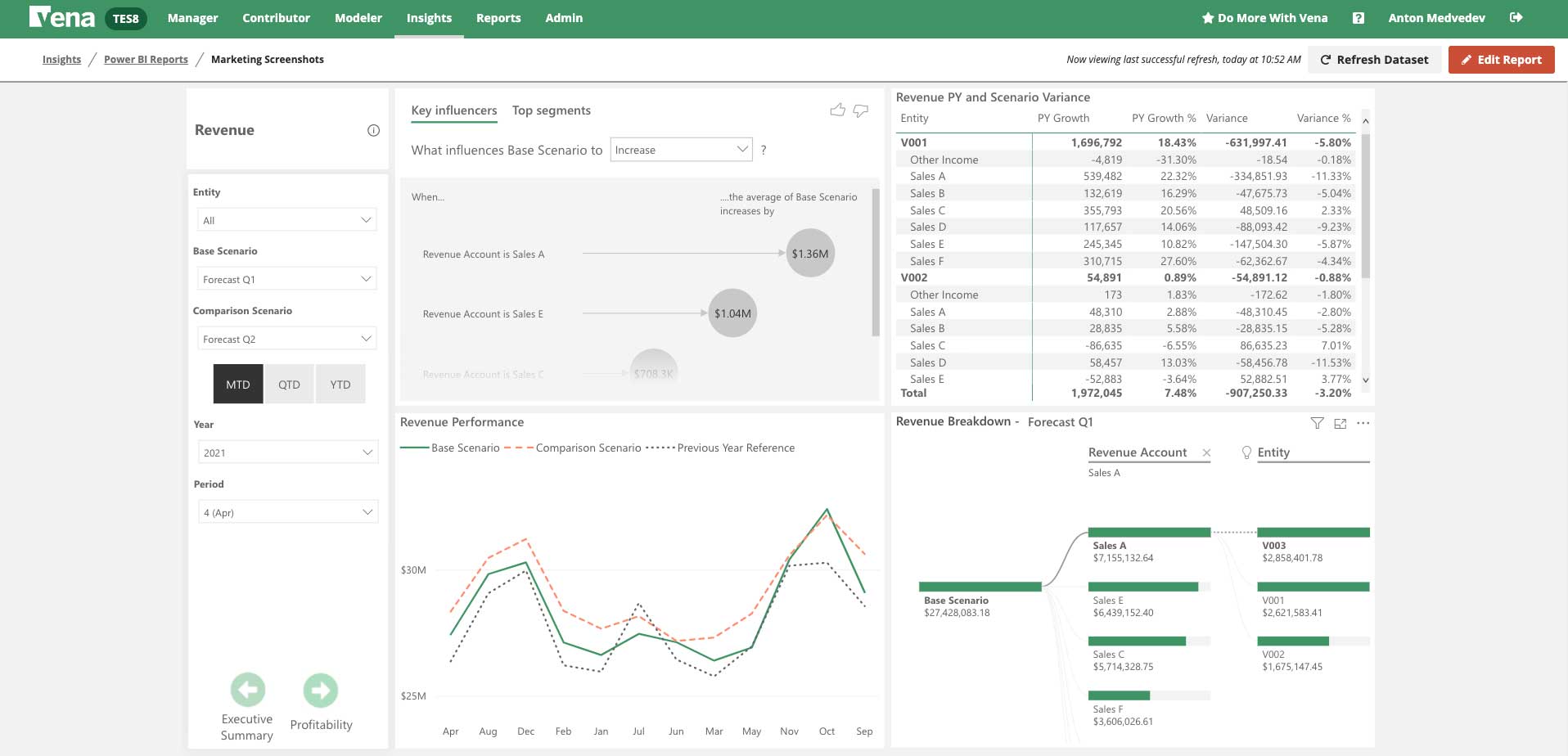 Vena's integrated analytics and reporting capabilities have really been taken to the next level with this new integration and by providing you with the insights to make better business decisions quickly, and quite probably better than many other better-known applications. Certainly, if you are in the process of developing your planning for business growth, Vena is well-worth consideration, especially with Power BI now an embedded component.
Conclusion
This newly embedded Power BI platform allows Vena users to get the most out of their data. The promise of being able to get invaluable insights and intelligence in real-time, anytime, together with comprehensive analytics and reporting capabilities has taken a big leap forward with this release.
Users can perform a variety of different analysis types, dive deeper into trends to gain maximum insight from their data, and genuinely make more informed decisions quickly and efficiently. Vena is a very capable platform that can scale and provide value alongside you as your business grows.
Find out more about Vena Solutions Software Platform.