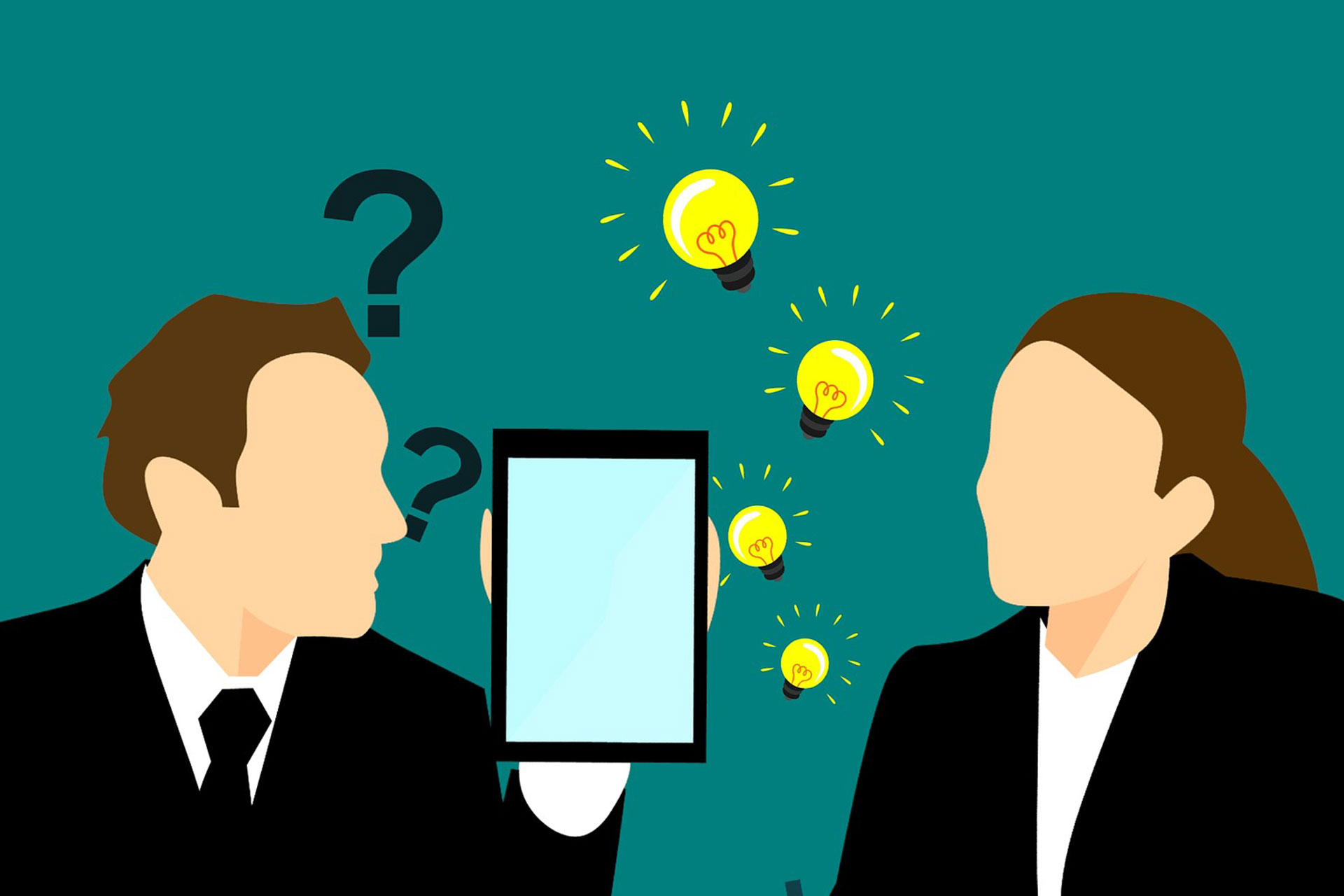 IBM Planning Analytics vs TM1
IBM Planning Analytics has now been available since early 2016, first on the cloud as 'Software as a Service' (SaaS) and, since December 2016, also as traditional 'On Premise' software.
We at InfoCat have been closely involved with Planning Analytics since we saw early, pre-beta, versions at IBM's Vision conference in May 2015. With a long history of working with Cognos TM1 and having built up an in-depth knowledge of that product, IBM Planning Analytics has become the natural development progression for us, as it has at its heart the TM1 'engine' as its fundamental backbone - hence the phrase 'IBM Planning Analytics Powered by TM1'.

Planning Analytics has evolved rapidly and now provides rich graphical dashboarding features and optimised performance over the internet as well as further enhancing the powerful TM1 engine that so many customers know and love.
However, even in 2023 there does still seem to be some confusion among existing TM1 and Cognos Express users about what Planning Analytics actually is - and the IBM marketing hasn't always made this clear! We are often asked: Is it a completely new product, does it replace TM1, what is the difference between the cloud and on-premises versions and so on. This article looks at some of the most frequent questions that we are asked, including:



An abbreviated version of this post is available on our FAQ page.

Let's dive straight in:
What is Planning Analytics?
Planning Analytics is the name for the latest release of TM1. It provides a number of enhancements that make it a more powerful and versatile tool for planning, budgeting, and forecasting:


A user-friendly planning workspace that makes it easy to enter and edit data
A drag-and-drop interface for creating and managing plans
A built-in what-if analysis tool that allows users to test different scenarios
A powerful reporting engine that allows users to create reports and dashboards


Overall, IBM Planning Analytics is a powerful and versatile tool that enhances the capabilities of Cognos TM1. It provides a number of features that make it easier to create, manage, and analyse plans and forecasts and provides easier collaboration on plans by the provision of:


A central repository for storing plans and forecasts
A built-in workflow engine that allows users to track the progress of plans
A secure sharing mechanism that allows users to share plans and forecasts with others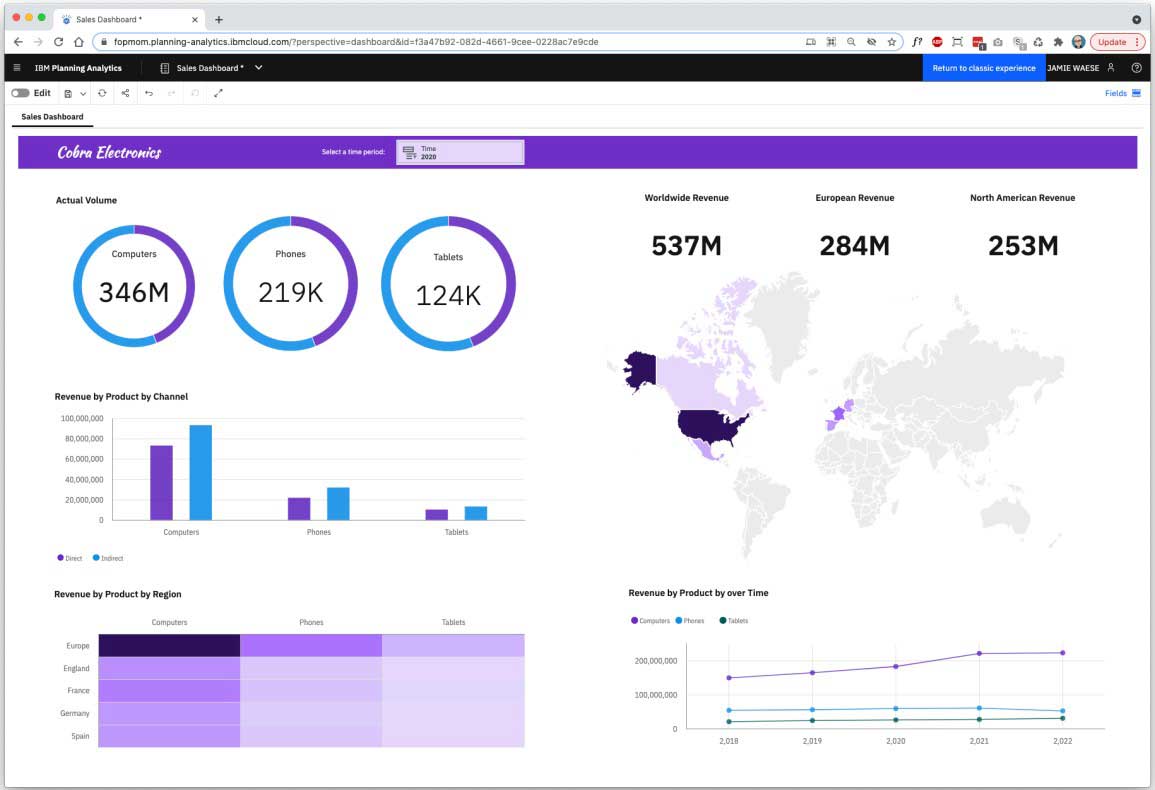 There are 2 versions:
Planning Analytics SaaS
This has been available since December 2015 under a cloud based, Software as a Service (SaaS) subscription model. The TM1 server and associated programs are hosted on the IBM Softlayer cloud and all maintenance and infrastructure operations are carried out by IBM staff. It is suitable for organisations looking for a fully cloud based Planning and Analysis solution or wishing to quickly flex their TM1 server or license requirements without a long term commitment.
Planning Analytics Local
Released in December 2016, the full name is "Planning Analytics Version 2 Local, powered by TM1". This allows virtually all the new features of Planning Analytics SaaS to be installed "On Premise", using your own IT infrastructure. Subject to IBM licensing constraints, it can also be installed in a hosted environment, or on public and private cloud services. Depending on the number of users, it is available as either Enterprise or Express versions
How does the Local version differ from the SaaS version?
The Planning Analytics SaaS offering includes an integrated instance of Cognos Analytics (previously called Cognos BI) and Watson Analytics. These applications provide features for enhanced reporting and predictive analytics. Although not part of the Planning Analytics Local installation, they can be added if needed subject to licensing restrictions.

Which version is right for you?

The best version of IBM Planning Analytics for you will depend on your specific needs and requirements. If you are looking for a cost-effective solution that is easy to use and maintain, the SaaS version may be a good option for you. If you need a solution that offers more customisation options, integration with other applications, and performance, the local version may be a better option.

What is included in Planning Analytics Local?
Planning Analytics Local is installed on your own servers. It includes a number of features that make it easier to create, manage, and analyse plans and forecasts and includes existing TM1 features that users will be very familiar with:

TM1 Server
The new server (effectively TM1 version 11) contains a powerful new feature providing attribute based analysis based on virtual hierarchies. This provides major benefits for analysis and reporting. The server also contains performance enhancements such as faster start up times.


TM1 Web
The latest version includes improvements to performance and a new, more flexible, selector and set editor providing a standard user interface across the new Planning Analytics features.

Planning Analytics for Excel (PAX)
Based on CAFÉ, this is a new Excel interface, optimised for use over the web. It includes a user friendly 'slice and dice' exploration view for ad-hoc analysis as well as Custom and Active Reports that provide virtually all the end-user functionality of Perspectives. Existing Perspectives reports are supported in PAX though Action buttons need to be converted and existing VBA routines may not work. Note that the Perspectives and PAX Excel add-ins are not compatible and cannot both be run at the same time on a client PC.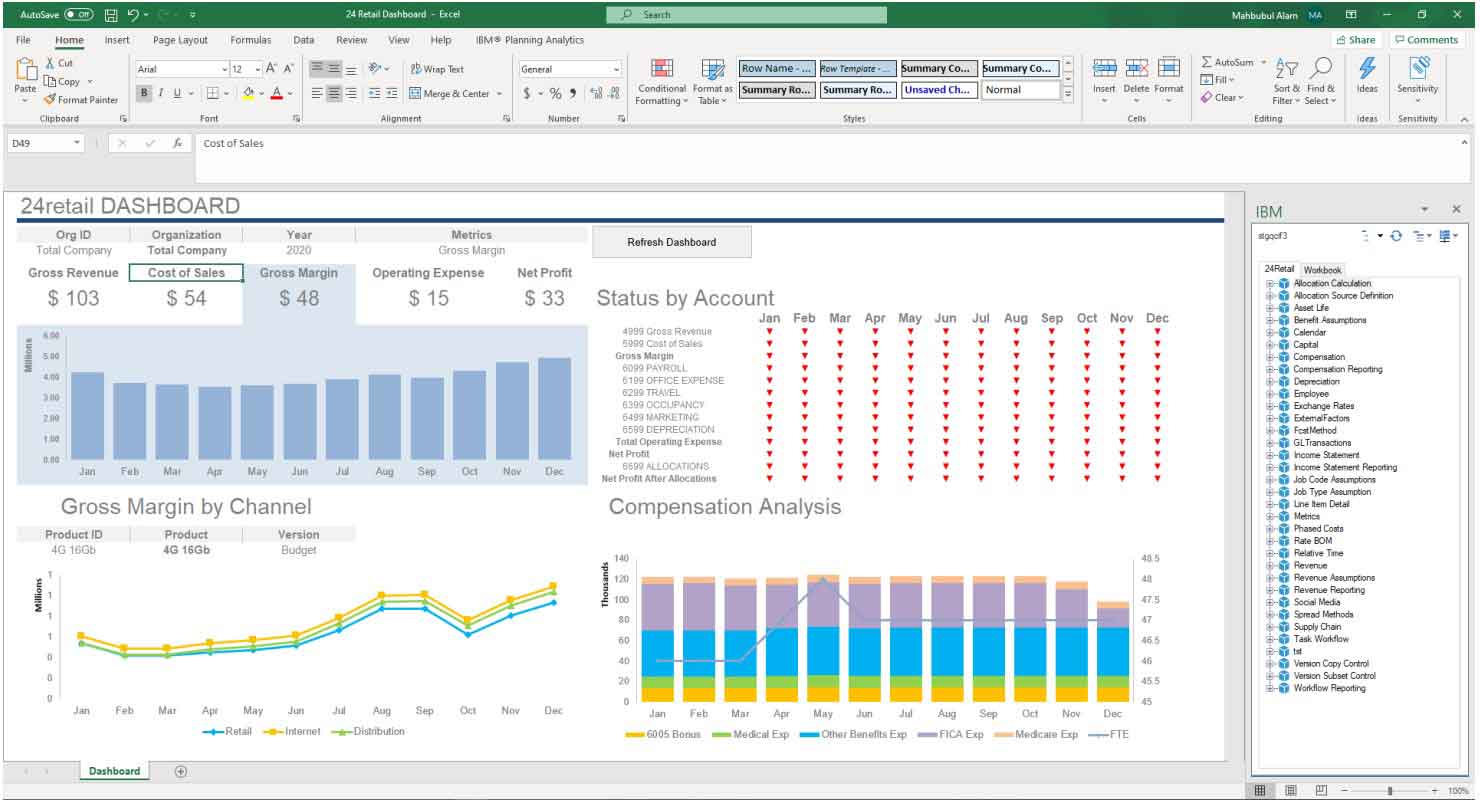 Perspectives & Architect
This is unchanged since the previous TM1 version 10.2.2 and we do not expect it to be enhanced any further. It will eventually be replaced by PAX and the administrative functions in Planning Analytics Workspace.

Performance Modeler and Applications Web
The administration and development functions are effectively unchanged. Some of the dimension maintenance functions are now also available in PAW and we expect more functions to be transferred to PAW in future releases.

Cognos Insight
Still available as part of Planning Analytics but there are no enhancements and we do not expect to see it developed further.

New module - Planning Analytics Workspace (PAW)
Planning Analytics Workspace (PAW) is a completely new, fully browser based module for input, reporting and analysis. It allows users to easily create high quality numeric and graphical reports using drag and drop functionality with no specialist programming or scripting skills. It is a component of IBM Planning Analytics, and it can be used with both the SaaS and Local versions of the software.
 Key features include:
Ability to build dashboards and briefing books
Linking pages and objects
Standard graphs, advanced visualisations, maps, heat maps etc
Can incorporate TM1 Websheet reports and input sheets
Chat facility for on-line collaboration
Limited dimension set up and maintenance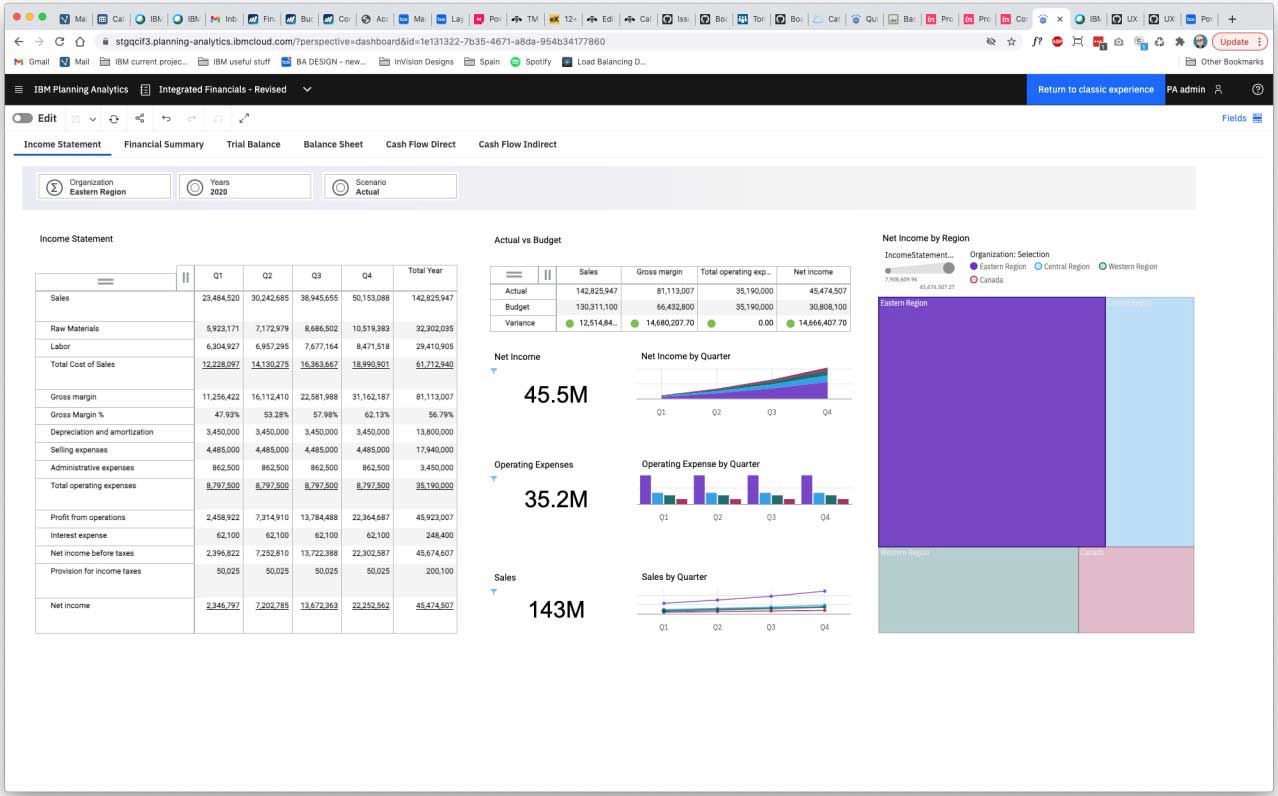 Does Planning Analytics replace TM1 and Cognos Express?
New versions of the TM1 & Cognos software use the name Planning Analytics or Planning Analytics Express respectively. However, they are both based on the TM1 server and contain all the existing features of previous TM1 versions. Some enhanced TM1 & Cognos Express features in IBM Planning Analytics include:

Enhanced Collaboration Tools
Commenting: Users can now comment on plans and forecasts, which makes it easier for them to collaborate and get feedback.
Collaborative editing: Users can now collaborate on plans and forecasts in real time, making it easier for them to work together and make changes.
Plan tracking: Users can now track the progress of plans and forecasts to see how their plans are developing.
Improved Reporting Tools
New chart types for users to create visually appealing and informative reports.
Improved data visualisation for easier trend analysis in their data.
Embedded analytics: Planning Analytics now allows users to embed analytics in their web pages and to share their insights with others.
New Integrations
Planning Analytics has new integrations with other applications, such as ERP systems and CRM systems, including:
SAP S/4HANA
Salesforce CRM
Performance Improvements
Planning Analytics has performance improvements that make it faster and more responsive when working with very large datasets or performing complex analyses, including:
Improved data loading
Improved query performance for complex queries on large datasets.
Can I Upgrade to Planning Analytics Local?

Existing customers covered by Support and Maintenance (S&S) agreements can upgrade to Planning Analytics Local free of charge. All users will have access to the new TM1 software and enhanced features but only Administrator and Modeler users will be licensed for the new Workspace module, PAW.
Will it cost anything to upgrade?

TM1 users without Administrator or Modeler licenses will be able to use all the enhanced features within TM1 including PAX and TM1 web at no extra charge. However, if they wish to use PAW they will need to purchase an "add-on" license.

Must I upgrade to Planning Analytics to get the latest TM1 version?

The final release of TM1 prior to Planning Analytics Local was Version 10.2.2. Customers wishing to move to the latest version of TM1 must upgrade to Planning Analytics which incorporates the latest TM1 software.
As explained above, for customers with a current support and maintenance agreement there is no license cost to upgrade provided non Administrator/Modeler users do not access PAW.

Will Planning Analytics Local run on my existing hardware?

You can run most of the existing features of TM1 without any changes to your server. This includes Perspectives, Performance Modeler and TM1 web. If you wish to use PAX or PAW you will need to install the Workspace server software. This runs within a "Docker" container, similar to a virtualised environment, and IBM recommend it is installed on a separate server to that running TM1.

What will happen to my existing TM1 and Cognos Express applications?

Customers can easily migrate their existing applications to Planning Analytics Local in exactly the same way as previous TM1 upgrades. In addition, If they wish to use PAW or PAX they will need to install the Workspace server software running in Docker. There are issues running the Perspectives and PAX Excel add-in simultaneously on the same client PC and the best approach must be considered as part of the migration. Our experience is that existing Perspectives reports work well in PAX but, as with all upgrades, we recommend thorough testing of all features before live use.

What is IBM's vision & road map for TM1 and Planning Analytics?


IBM will continue to develop and enhance the underlying TM1 database engine. In addition, they are moving the development and administration functions into PAW and developing a new collaboration & workflow capability. We expect the future TM1 interfaces will be based on:

Planning Analytics for Excel
For reporting and analysis within an Excel environment, optimised for use over the web.

TM1 Websheets
Flexible, customised, user developed reports and input sheets created with PAX and published to a browser environment.

Planning Analytics Workspace
Browser based analysis, reporting, development, and administration.
Will IBM continue to support the existing interfaces?

Our experience with previous products such as Cognos Planning has been that IBM is good at continuing to support superseded versions and modules of their software. We expect, for example, Perspectives to be fully supported for several years though we do not expect any enhancements to be added.

How can I find out about new Planning Analytics features?