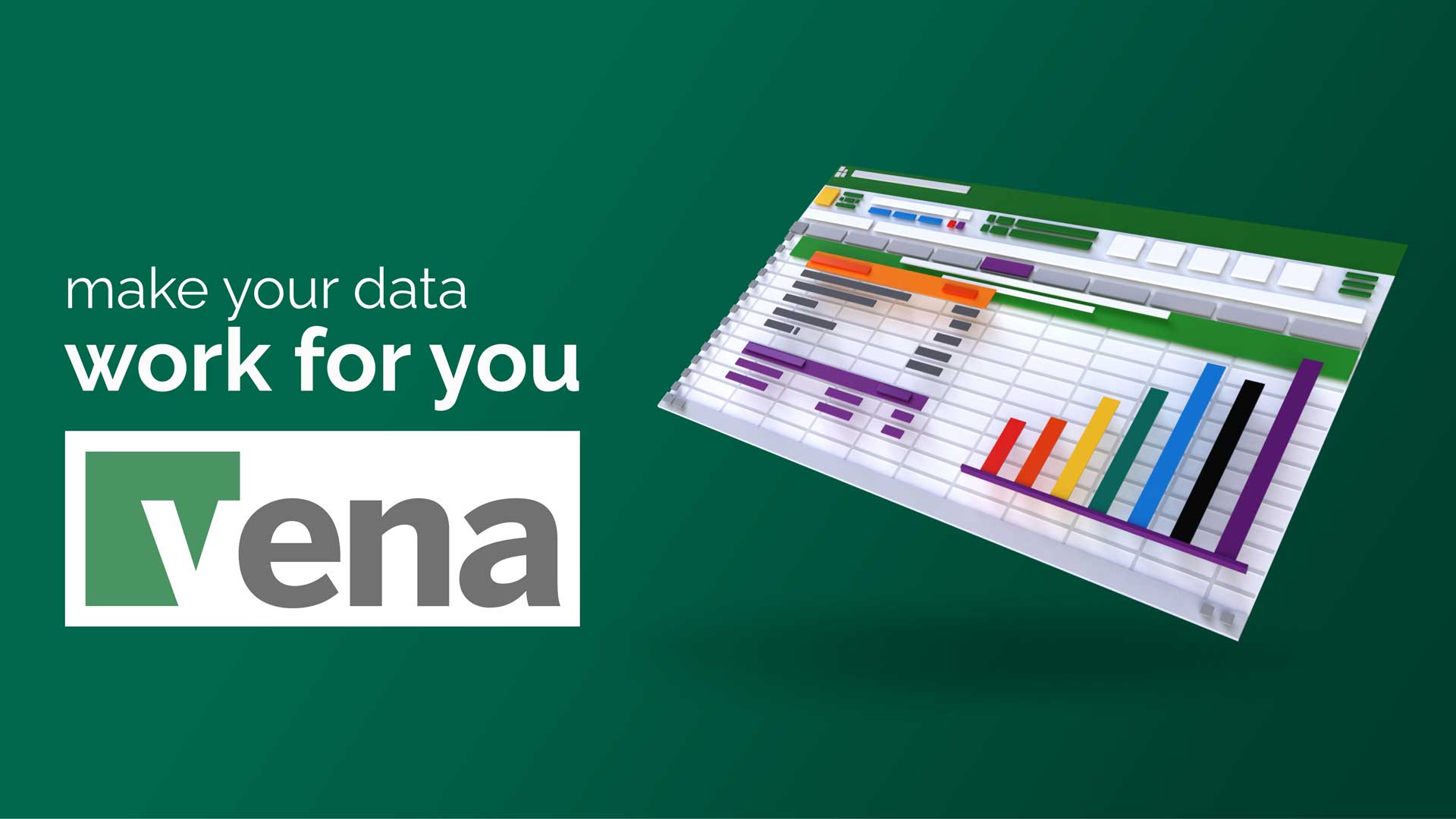 5 Benefits Of Choosing Vena Solutions Software For Your Business
As a business owner or manager, you know how important it is to have reliable software to manage your financial operations.
That's why Vena Solutions has become such a popular choice for businesses of all sizes. With its intuitive interface, powerful features, and flexible deployment options, Vena Solutions is an ideal choice for companies looking to streamline their financial processes and boost their bottom line.
In this article, we'll explore five key benefits of choosing Vena Solutions software for your business, including improved accuracy, increased collaboration, enhanced reporting capabilities, better visibility into your financial data, and more.
Whether you're a small startup or a large enterprise, Vena Solutions has the tools you need to take your planning, consolidation, and reporting to the next level. So, let's discover why Vena Solutions could be the right choice for your business. Here's what you need to know:
Benefit 1: You Don't Need to Abandon Excel

Before moving to a 'managed database' system, most companies will have a heavy reliance on spreadsheets. Often, these systems have become quite sophisticated over time. They therefore work well, but all suffer from the usual spreadsheet shortcomings in that they demand a high level of monthly maintenance and by their nature are very prone to error.

On the face of it, once an organisation gets to the point where the maintenance of a spreadsheet-based system becomes too costly in terms of overheads, the obvious answer is to start the search for a managed database system which fits the requirements of the company.
Apart from the fact that this market offers a sometimes bewildering choice of alternative solutions from all of the well-known vendors, getting the choice of application software right is only a part of the challenge.
So, assuming that you've made the decision to move to application-based planning, budgeting, and forecasting, and that you've conducted exhaustive research into the market to identify the best software for your company, what is the remaining challenge that is nearly always overlooked? User acceptance.
A recent in-depth survey carried out by Fluence Technologies, interviewed mid-market finance executives and found that 88% stated that modern, intuitive software is crucial to recruiting and retaining finance staff. Similarly, Vena's own survey found that nearly 82% of companies who switched to well-known legacy applications ended up going back to spreadsheets due to the complexity of using their chosen application.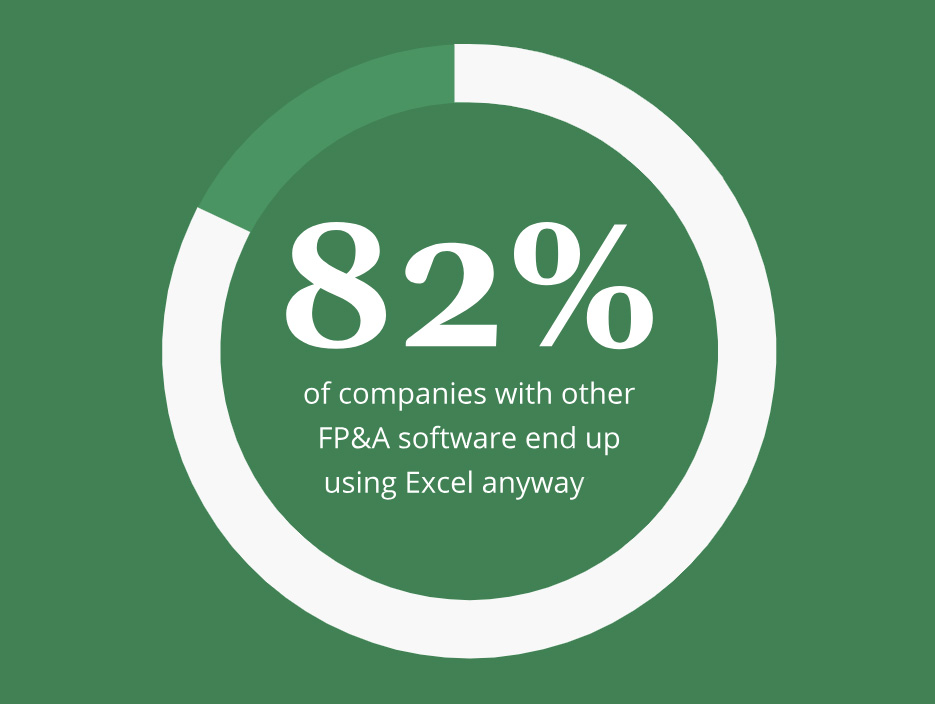 Image: Vena Solutions
The ability of finance staff to use any new software application can therefore be a make-or-break decision when selecting a FP&A software solution.
Vena Solutions is based on a native Excel user interface. Users do not need to re-train in order to use the software. They simply work from a familiar software environment which is linked to a sophisticated, managed database application. This represents significant advantages:
Users easily adapt and embrace the new way of working.
The managed database provides the control and eradication of spreadsheet-based errors.
All users benefit from the knowledge that they are working from one version of the truth.
Importantly, if you already have a spreadsheet-based system in place, it can be easily imported into Vena Solutions. You work in a familiar environment, but with far greater control, collaboration, and security.
All of the above bullets also represent a further benefit. Both time and costs are significantly reduced, releasing more resource for all-important business performance analysis. Vena is the only native Excel FP&A software. Back to Top
Benefit 2: You Can Easily Integrate All Existing Business Systems

There is another factor which is very often overlooked when moving to an application based solution – particularly some of the large, well-known 'legacy' solutions which have been around a long time. The ability to integrate other core existing business systems.
It is not always easy, nor in some cases even supported to do so. In these cases, often complicated extraction, transformation, and loading routines need to be designed and implemented to enable data integration.
Vena Solutions therefore 'designed-in' the capability for their database to easily connect with a multitude of existing business systems, as well as your Excel and CSV files. It doesn't matter whether your business solution is cloud or on-premise, Vena will almost certainly have easy access to automatically bring in the data that you need for company-wide planning and more.


Image : Vena Solutions
This capability not only represents a huge time-saving during implementation, but also enables users themselves to easily bring in data from just about any system required, keeping the finance team productive and proactive. Back to Top
Benefit 3: Benefit From Preconfigured Solutions

This feature of the Vena Solutions software is often used to great effect by users, and it is the many preconfigured solutions which are available from the Vena store straight 'off-the-shelf'.
Instead of re-inventing the wheel and creating a solution for your business needs, Vena provides a library of preconfigured solutions which can be used in their entirety, as a template, or as a starting point to create even better solutions for your company.
Preconfigured solutions therefore allow you to jumpstart your financial and accounting processes and include tailored integrations, plus comprehensive templates for planning, reporting, collaborative workflow and much more. Vena's preconfigured solutions are available for:
Financial Planning & Analysis
Financial Reporting
Workforce Planning
CapEx Planning
Incentive Compensation Management
Financial Close Management
Account Reconciliation
Financial Consolidation
Built on industry best practices, Vena's preconfigured solutions are a great way to start your journey to better Budgeting, Planning, Forecasting and Reporting. Back to Top
Benefit 4: Fast Implementations Ready for Your Industry
With native Excel and Microsoft 365 integration already making Vena Solutions an ideal solution to boost existing finance team productivity for many businesses, the Vena application goes a stage further to really enhance existing company-wide planning capabilities.
We've already seen how Vena's preconfigured solutions can jumpstart your internal financial processes with process-ready templates, so wouldn't it be great if you could access preconfigured industry solutions as well? With Vena's Industry Solutions, you can. The Industry Solutions are available for:
Banking & Credit Unions
SaaS
Insurance
Hotels & Lodging
Higher Education
Professional Services
Professional Sports
Not for Profit
Manufacturing & Demand Planning
Healthcare
Real Estate
Construction
If your industry is not in this list, Vena Partners such as InfoCat are able to bespoke a solution to your own requirements, quickly and efficiently. Back to Top
Benefit 5: Embedded Power BI
Back in November 2022, Vena Solutions announced the integration of Microsoft Power BI as an embedded component of their Vena Complete Planning platform.

This powerful new capability enables all users to transform and maximise their Vena Solutions' data for BI purposes. It is designed to help companies unlock their potential with powerful analytics, reports, and visualisations based on Vena's already impressive planning, budgeting, and forecasting capabilities, which take data directly from existing Excel grids as well as a multitude of other databases and applications.
Power BI Embedded has proved to be a significant feature of the software. Now, all users can create powerful visualisations of their data for deep analysis of trends, business drivers and more. The dashboarding capabilities of Power BI enable easy collaboration within teams and provide easy automated report generation for distribution to multiple departments, company-wide.
As with all other capabilities within the Vena Solutions application, Power BI Embedded can integrate effortlessly with multiple business systems in a totally secure software environment. Back to Top
Bonus Benefit: Build a Finance-Led Planning Solution

With all of the features above available to Vena's users, it doesn't take a great stretch of the imagination to realise that the software ultimately offers a fully featured Finance-Led Planning capability.
In fact, the Vena Growth Engine enables your financial department to quickly implement a fully functioning Corporate Performance Management system, using your existing Excel based Budgeting, Planning, and Forecasting models. The Vena software offers a scalable solution to enable a Finance-Led Planning application that grows with your company to provide all business departments with fully integrated planning capabilities which offer:
A faster budgeting process
Data Integrity
Managed Financial Planning & Analysis
High user acceptance
Find out more about Finance-Led Planning with our free download.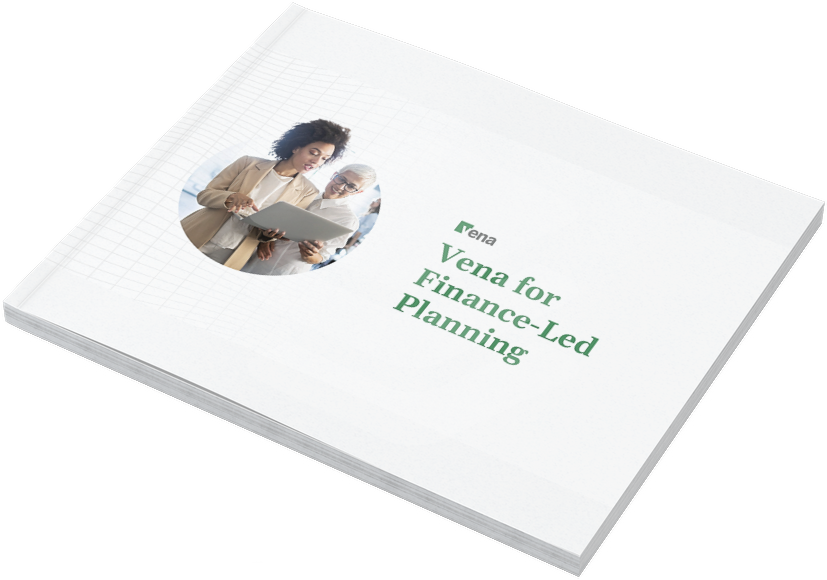 Vena Solutions vs Competitors

Of course, Vena Solutions is not the only financial software on the market. So how does it compare to its competitors? One major advantage of Vena Solutions is its ease of use. Unlike some other financial software, Vena Solutions has an intuitive interface that is easy to navigate, even for users with limited technical expertise.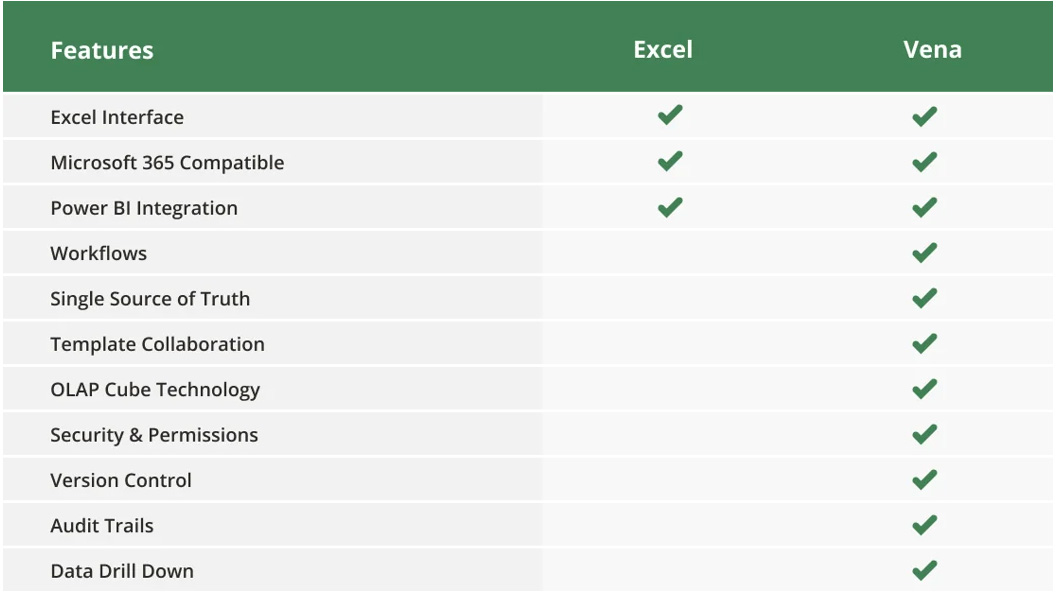 Vena Solutions flexible architecture enables you to choose from a wide range of deployment options, including on-premise, cloud-based, and hybrid. This allows you to select the option that best meets your business needs, without having to compromise on functionality or security. Back to Top
Conclusion

Vena Solutions represents a modern software platform which offers all of the functional capabilities that we have come to expect from consumer apps that we are all familiar with using on a daily basis.
That makes it an ideal platform for mid-market, high-growth companies. Users are offered an intuitive, familiar platform which enables high productivity in a secure environment. The managed database eliminates the errors that can easily occur in a pure spreadsheet environment, so everyone is working from a genuinely single version of the truth.
Added to this are features which enable easy collaboration, management of budgets, and other enhanced features, all of which come together to offer a high-performing, easy-to-use, secure solution which is affordable both in terms of license costs and in eliminating the often high hidden costs associated with the implementation and training on other software available in the same market space. Back to Top